Polishing a car can be an incredibly satisfying experience, both for the car owner and the detailer. But with so many car polishing products on the market, it can take time to know which one is best for your car. 
Here, the dynamics of car polishing will be explored to compare 3D One vs 3D Speed.
3D One is better than 3D Speed in terms of compatibility, cutting time, polishing finish, durability, and ease of use. It can provide deeper shine and a faster cutting finish than 3D Speed. However, 3D Speed is more cost-effective and versatile than 3D One due to its multi-step process for removing blemishes. 
Keep scrolling through to help you make the best decision for a long-lasting, glossy finish!
What Is The Difference Between Hybrid Compound And AIO?
3D one is a Hybrid Compound, a two-step car polish that uses both abrasives and diminishing abrasives to remove scratches and swirls in the paint. A hybrid version is the best solution if hard-to-remove rubbing compounds are present.
It is a more aggressive polish that will remove more defects than an AIO car polish. 
In contrast, 3D Speed is an AIO car polish that is an all-in-one polish and is a combination of polishing and waxing. It is a gentler polish that removes light defects and provides a protective coating.
After considering the various products suggested in this comparison, it is clear that each has its advantages and disadvantages. Depending on the individual's needs and preferences, the best fit can be chosen among the different options.
Comparison Features for 3D One vs 3D Speed [Quick Overview]
3D One and 3D Speed Car Polish offer excellent shine for your car. However, some differences could make one more suitable for your individual needs. 
| | | |
| --- | --- | --- |
| Features | 3D One | 3D Speed |
| | | |
| Components | Waxes, Oils, Polymers, and Solvents | Mild Abrasives, Waxes and Oils |
| Compatibility | Can be used on paint, metal, plastic, and glass surfaces | Can be used on paint, metal, plastic, and glass surfaces |
| Application Procedure | No Buffing, and Rubbing Needed | Requires Buffing and Rubbing |
| Cutting Time | Water Based Polish Cuts Faster | Solvent Based Polished Cuts Comparatively Slower |
| Polishing Finish | Better Lasting Shine Due to Polymer Contents | Deep Long Lasting Shine |
| Durability | Lasts for a year  | 4-6 months |
| Ease of Use | User-Friendly Product | Less User-Friendly Compared To Hybrid Compound |
| Cost Effectiveness | Less Cost Effective as it only offers scratch removal and polishing benefits | More Cost Effective as it has scratch removal, clear-coat polishing and waxing benefits  |
| Removal Process | Gentle and Non-Abrasive Formula | Highly Abrasive |
| Dusting | Doesn't Add Protective Layer | Adds Protective Layer to Keep The Dust From Returning |
Let's get into the details with this… 
3d One vs. 3d Speed [Detailed Overview]
Both are designed to protect your car's paint from scratches, dust, and dirt. Both products also claim to leave a high gloss finish. But there is more to find!
Feature 1: Components
The 3D One is a hybrid compound and polish whereas 3D Speed is a All-In-One Polish and wax. The 3D One and 3D Speed Car Polishes are made of natural oils and waxes. However, the 3D One polish provides a long-lasting, glossy shine due to having the added advantage of containing synthetic polymers. 
Whereas, 3D Speed contains mild abrasives, oils, and wax. Because of how the AIO 3D Speed is mixed, it provides a specific function in terms of protection due to its contents. 
Both are effective products, but the 3D One polish is probably the better choice as it provides a better overall shine. 
Feature 2: Compatibility
3D One has a long working time and provides a brilliant shine that lasts up to 12 months. Meanwhile, 3D Speed's quick action formula gives an intense, professional shine in only a few minutes. 
3D One and 3D Speed Car Polish are highly compatible with all car paint and clear coat finishes. These types include paint, metal, plastic, and glass surfaces. Both polishes are also water-resistant and provide durable protection against environmental contaminants.
Overall, 3D One is the better option as it provides a longer-lasting shine. Its long working time allows you to finish the job without rushing.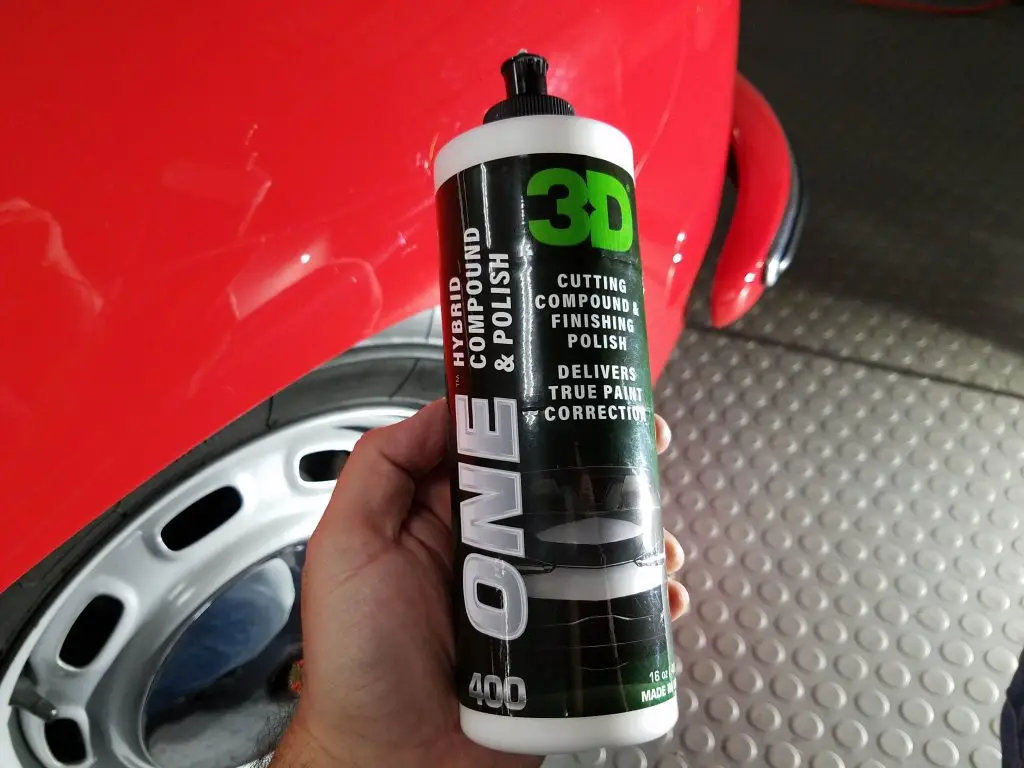 Feature 3: Application Procedure
The 3D One and 3D Speed Car Polishes application process differs slightly based on how it is being used. 3D One requires no buffing or rubbing. You can simply spray the formula onto the surface, let it sit for 5 minutes, and then wipe away any excess product with a lint-free microfiber towel.
Using 3D Speed Car Polish is more detailed and requires buffing and rubbing. Some people view it as if the hard work is worth it. 
3D One is ideal for quick and easy cleaning, while 3D Speed Car Polish offers a more thorough cleaning and polishing process. So, let's give 3D one a heads up!
Feature 4: Cutting Time
3D One is a car polish designed to cut time during car polishing but 3D one is faster compared to 3D Speed. It is a water-based polish that is highly concentrated. This means it allows quick removal of dirt and grime without excessive scrubbing. 
It removes the hassle of removing silicone from the car paint when it gets too cluttered. 
3D Speed car polish is also designed to cut time during car polishing. It is a fast-acting solvent-based polish that can easily remove heavy deposits of dirt and grime. But, 3D One remains to be the popular choice. 
Here is what you can get, Hybrid Sealant Spray. Sealing the surface with this product provides long-lasting protection, even after multiple washing items.
The 3D One car polish is the better option due to its superior performance against water spots and fast-acting formulation.
Feature 5: Polishing Finish
3D One is a one-step polishing compound while 3D Speed is for polishing and waxing so it requires multiple steps. The 3D One is a high gloss car polish that provides a deep, long-lasting shine without the need for waxing. It is formulated with a blend of advanced polymers, silicones, and waxes that help to shine better on your vehicle's finish. 
It also contains a unique blend of carnauba wax and polymers that help to reduce oxidation and fading. 
In contrast, 3D Speed is a two-step, high-gloss car polish that also provides a deep, long-lasting shine. 3D Speed utilizes a unique blend of advanced cleaning agents, polymers, and waxes to help restore and protect your vehicle's finish. 
This product, Lens Restorer Kit, can help the process. It restores clarity to faded or discolored headlights and taillights caused by oxidation, sun damage, or yellowing.
3D One shines better than 3D Speed because it utilizes a unique blend of advanced cleaning agents and polymers. These features help to restore and protect your vehicle's finish.
Feature 6: Durability
3D One offers a longer-lasting shine but no protection that 3D Speed can provide with their waxing step. The 3D One polishing process resists oxidation and corrosion and can last for over a year. The durable characteristics of the product assist easy removal of painted pinstripes from the car. 
3D Speed, on the other hand, offers a quick and easy application that leaves a glossy finish that lasts for 4-6 months. 
It's a tie as both polishes can help to keep the car's paint looking new with their unique compositions. But, 3D One provides a longer-lasting finish that resists oxidation and corrosion.
Feature 7: Ease of Use
3D One has a wide spray pattern for complete coverage, and it is designed to be used in one step, with no buffing required. This makes it much easier to use and less time-consuming than 3D Speed.
Contrarily, the 3D Speed polish requires buffing and multiple steps to achieve the desired results and is more time-consuming to work on. 
All of these attributes make 3D One a much more user-friendly and time-saving car polish compared to 3D Speed.
Feature 8: Cost Effectiveness
For car owners looking for an extra layer of defense against the elements and a more lustrous shine, 3D Speed car polish is ideal compared to 3D One. In terms of what is being spent, it provides superior protection, while its deep shine helps make cars look their best.
The 3D Speed car polish costs couple of dollars less for 16 oz then 3D One. 3D Speed provides polishing, swirl correction, and wax protection along with scratch removal compared to 3D One which is only for scratch removal and polishing.
Although 3D One is better in many functions for polishing and buffing, in terms of cost, it may not be the best deal for you as you have to pay a little more to get the most out of it. 
Overall, 3D Speed is the better and more cost-effective option compared to 3D One. It also offers a wide variety of features that can help you create stunning 3D images quickly and efficiently.
Feature 9: Removal Process
The 3D One car polish has a much easier paint removal than 3D speed car polish. 3D One car polish has a gentle and non-abrasive formula designed to remove light oxidation, paint transfer, and swirl marks without damaging the paint. 
3D speed car polish, on the other hand, is designed for removing deeper imperfections and is more abrasive, making it harder to use without damaging the paint.
Based on the comparison of the two products, 3D One car polish is the better option for removing paint and is much easier to use than 3D speed car polish due to its non-abrasive formula.
Feature 10: Dusting
This 3D One Car Polish and 3D Speed Car Polish combines high-tech polishing particles and wax. This is to break down and remove dust and dirt from your car without harsh chemicals. 
The necessary idea of the process is to polish the surface to remove dirt and dust and then add a protective wax layer to prevent it from returning.
Both polishes are effective at removing dust from cars. Still, the 3D Speed Car Polish is better because it polishes the surface and adds a protective layer to keep dust from returning. This means that your car will stay cleaner for longer.
Additionally, 3D Speed is formulated to remove scratches, oxidation, and other blemishes effectively. It also comes in various sizes and formulas to fit any user's needs.
So, Which One To Choose – 3D One or 3D Speed?
For those looking for durability, a high shine, and an easy and fast cutting finish, 3D One is the ideal solution. This product provides a deep shine and reduces the chances of scratches, fading, and sun damage for up to a year. 
Its high wax content ensures excellent durability and a beautiful finish. 
Conversely, 3D Speed Car Polish is a cost-effective and versatile choice, providing a quick and easy solution for polishing and protecting vehicles.
Frequently Asked Questions (FAQs):
How long does 3D speed last?
3D speed car polish is designed to last up to 6 months or longer, depending on the type of vehicle and how often it is used. The polish can provide a protective layer to the car's paint, preventing dirt, dust, and other environmental contaminants from sticking. 
Can you use 3D One on headlights?
Yes, 3D One can be used on headlights. It is a water-based sealant that provides quality shines on the headlights. It also helps restore the headlight lens's clarity and prevents yellowing.
Is 3D speed a compound?
No, 3D Speed Car Polish is not a compound. Compounds are molecules composed of two or more atoms from different elements chemically bonded together. 3D Speed combines waxes, polymers, and blended resins to form a polish.
Conclusion
The 3D One vs. 3D Speed debate in car polishing is ongoing. While the 3D One offers a slightly more intensive polishing job and is slightly more expensive, the 3D Speed is often seen as a more economical and time-saving alternative. 
Ultimately, the decision between the two comes down to the preference of the car owner and the type of job they require from their car polishing. 
We hope all these insights have helped you; it's time to say goodbye! See you next time!
As an Amazon Associate I earn from qualifying purchases.