Who doesn't want to have clean, contamination-free car surfaces? It's really irritating when any part of your car gets contaminated. The main concern arises when you have the market flooded with various car cleaning products. 
As a result of that concern, you may suffer from indecisiveness about which one to pick between Chemical Guys Innerclean Vs Total Interior.  
Innerclean is an all-purpose cleaning solution while Total Interior is specially formulated for the car's interior. Innerclean only cleans the surfaces while Total Interior adds a protective layer apart from just cleaning. Innerclean is less expensive than Total Interior. 
This short answer won't serve your purpose. So, let's proceed to the following section to know a detailed comparison between Chemical Guys Innerclean vs Total Interior. 
What's the Difference Between Chemicals Guys Innerclean and Total Interior
Many factors will have to be considered before choosing the best possible cleaner between them. Let's have a sneak peek!
| | | |
| --- | --- | --- |
| Feature  | Chemical Guys InnerClean  | Chemical Guys Total Interior  |
| | | |
| Formula  | Dimethyl siloxane(Less strong- Foaming cleaner) | PPG methyl ether(More strong-Liquid cleaner)   |
| Aroma | Moderate but not long-lasting  | Fresh and Longer lasting |
| Versatility  | Versatile Cleaner for all surfaces  | Versatile for all interior surfaces |
| Cleaning capacity  | Good  | Excellent  |
| Used for  | To clean virtually all interior surfaces of dirt, debris, and oil | To clean and protect car interior and windows from fading and discoloration.  |
| Application type  | Spray  | Spray  |
| Cost  | | |
| Available sizes  | 4 0Z, 16 0Z,1 Gallon  | 4 0Z, 16 0Z, 1 Gallon |
Chemical Guys Innerclean Vs Total Interior: Detailed Comparison
Looking at the features of Chemical Guys Innerclean and Total Interior in a short manner won't do justice to them. 
So, in this section, we'll shed light on the comparison in a vast manner which will help you to choose one.  
Comparison 1: Formula
The formula of Innerclean is as strong as Total Interior. The main cleaning component of Innerclean is Dimethyl Siloxane. It is a widely used silicon-based organic polymer.
The interesting fact about Chemical Guys Innerclean is it is a foaming cleaner. Usually foaming cleaner is easy to apply. 
On the other hand, Total Interior is a multi-surface cleaner with a strong formula. It comes with Propylene glycol methyl ether, which not only cleans but also provides protection.
It is designed to be used on a variety of surfaces and materials. The cleaning agents  that are contained in it provide a beautiful and clean interior. Both of them are capable of removing those sticky fingerprints that won't come off a car.
Winner: Total Interior 
Comparison 2: Availability of Fragrances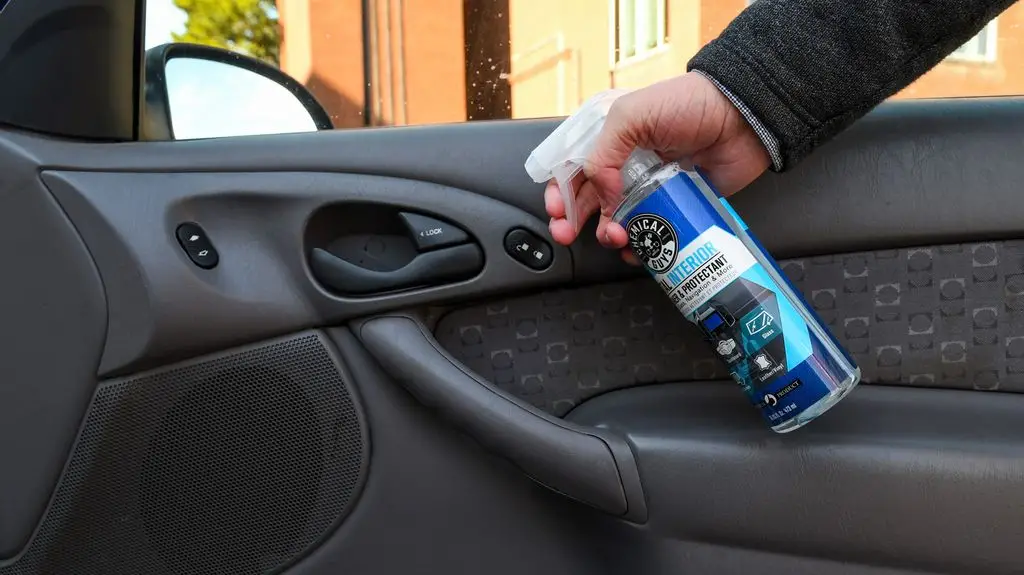 The aromas in a cleaner make the product much more popular. Also, it provides a good scent inside the car. The aroma of Total Interior is better than the smell of Innerclean in terms of freshness and longevity.
The good thing is that both of the cleaning solutions possess good fragrances. Chemical Guys Innerclean contains a pineapple scent. The scent is not overbearing but very subtle. That scent can reduce the enzymatic odor. But the smell is moderate and not long-lasting.
On the other hand, Total Interior is capable of freshening an interior with the crisp scent of baby powder. So, the surfaces remain scented after cleaning. It is also longer lasting and gives your car a fresh smell.
Winner: Total Interior 
Comparison 3: Versatility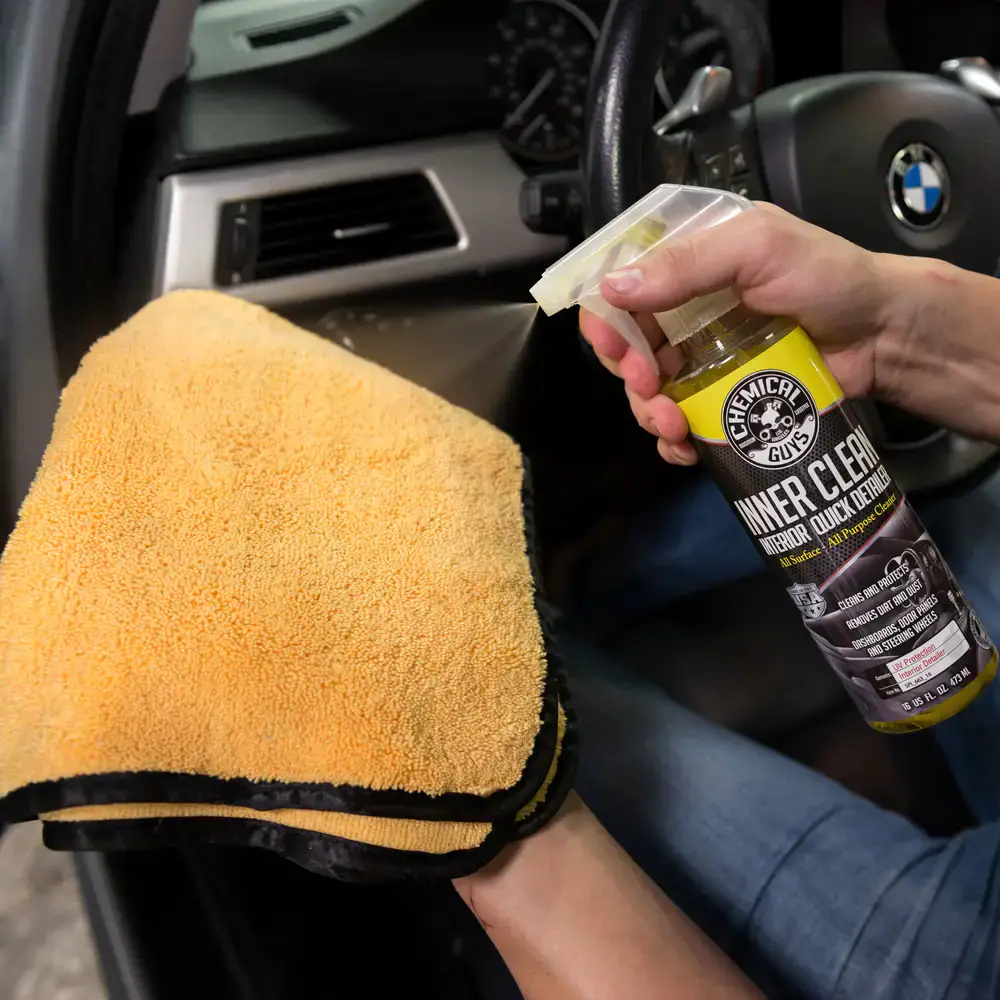 InnerClean is thoroughly versatile. This is an all-purpose cleaning solution. You can clean dashboards, door panels, steering wheels, and shift knobs. 
Afterward, it cleans plastics, rubbers, vinyl, leather, and glasses perfectly. Also, it is suitable for LCD navigation screens, steering wheels, and seats. 
On the other hand, Total Interior is not versatile. It is specially designed for use in the interior section of your vehicle. But it does not apply to the outside surfaces of your car or other household surfaces. Also, it may leave the surface of the glasses streaky after use.
Winner: InnerClean
Comparison 4: Cleaning Capacity
The cleaning capacity is a significant feature of a cleaner. Comparatively, Total Interior has better cleaning capacity than Innerclean 
Innerclean cleans daily dirt and debris from the inner surfaces like dashboards appropriately. 
It's the ultimate quick detailer for removing dirt, dust, and body oils from virtually any interior surface. It also adds a glossy finish to the overall look.
Meanwhile, Total Interior possesses an excellent Cleaning capacity. It also gives protection after cleaning. It has a very gentle and premium formula that cleans layers of dirt, grime, debris, fingerprints, grease, and oils. 
Also, it protects virtually all interior surfaces. Rubbing compounds that won't come off can be easily cleaned with this solution.  
The special formula of Total Interior also includes UV blockers that help protect hard plastic interior parts from cracking and fading from harsh sunlight. It leaves no residue, no greasy feel, or an oily look behind after wiping clean. It is also great for wooden and chrome surfaces.
However, it does not add gloss or shine; it simply restores the part's stock appearance.
Winner: Total Interior 
Comparison 5:  Usage
One-step detailing on the go is possible with The Innerclean. It can clean hard stains within a moment without leaving any residue behind. Although it may leave a greasy shine to the afterlook.
On the other hand, Total Interior maintains the freshness, cleanliness, and newness of your interior. It simplifies the process of detailing and won't damage the surfaces.
Its main appeal is its ability to restore the original appearance of OEM parts. Moreover, it cleans and protects touch screens and navigation screens gently. 
Winner: Total Interior
Comparison 6: The Application Type & Process 
The application process is really important for a solvent. For your convenience, both of the cleaners come in a spray can.
All you need to do is apply a light spray of Innerclean on a microfiber towel. Then, remove dirt and debris from the interior surface by gently wiping it. 
After cleaning the surface with the microfiber towel, flip it over to the other side and remove excess liquid. To perform this job you don't need expertise and preparation. And it will take between 5 and 15 minutes to complete.
On the other hand, you should spray Total Interior cleaner on a dirty surface and then wipe it off with a microfiber towel. Mist the product straight onto a microfiber towel to avoid overspray on navigation screens, LCD screens, clear plastic, and GPS devices.
Again, if you want to clean carpet, cloth, or upholstery, simply spray on the material and clean it with a soft brush. For car seats, you should know how to clean the perforated leather seats of your car.  
Winner: Tie 
Comparison 7: Cost
Affordability is a key factor when choosing a cleaner for a car. Because you may not be ready to invest much in it. At $5.99, Innerclean is the comparatively cheaper choice. It reaches $32.99 at its highest price. 
On the other hand, if you want a Total Interior, you will have to pay $6.99 minimum and $49.99 maximum. 
Winner: Innerclean. 
Comparison 8: The Available Sizes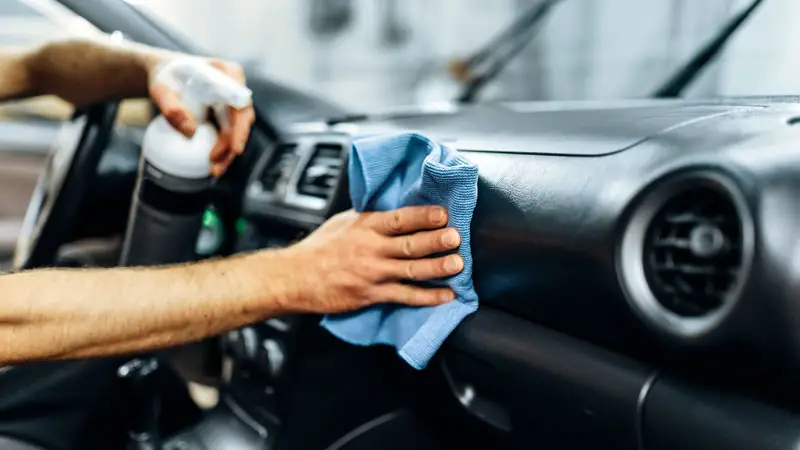 Both Chemical Guys Innerclean and Total Interior have different available sizes. For example, 4 0Z, 16 0Z, and 1 gallon. So you can pick any of them according to your needs. 
Winner: Tie
Which One Is Better-Chemical Guys Innerclean Vs Total Interior?
Now that we have covered all the important factors about Chemical Guys Innerclean and Total interior. It's time to decide on one.
In terms of their effectiveness, both InnerClean and Total Interior are effective at cleaning the inside of a car. 
However, Total Interior is specifically formulated for cleaning the inner surfaces of a car, so it may be more effective at removing dirt and grime from these surfaces.  It also adds a protective layer to the cleaned areas. It is one of the top choices of car interior cleaners among drivers.
On the other hand, Innerclean is an all-purpose cleaner that can be used on a wider range of surfaces. But it may not be as effective at removing tough stains and contaminants as Total Interior.
Ultimately, the choice between InnerClean and Total Interior will depend on your specific cleaning needs and preferences. If you are primarily looking to clean the inner surfaces of your car, such as the dashboard and doors, Total Interior is the better choice. 
But if you want a cleaner to use in a wide range of areas along with car interiors, Innerclean is a better option.
If you prefer a fruity smell Innerclean is the best choice for you. And those who love powdery scents, go for Total Interior.
Cost-effectiveness is also a matter in the selection. Innerclean will be a better choice if you are looking for an economically friendlier cleaning solution between those two.  
So, ultimately, the choice would purely depend on what you require and how you plan to get the most out of the cleaner. 
Frequently Asked Questions (FAQs):
Can you use Total Interior on tint?
According to the manufacturer's recommendation, you should not use Total Interior on tint. You can use it anyway if you don't have any other options handy but do a patch test first to make sure the cleaner will not damage your tint. 
Can Chemical Guys total interior be diluted?
Yes, Chemical Guys Total Interior can be diluted with water. The recommended ratio is 10:1 which means for every 1 part of Total Interior Cleaner, you should use 10 parts of water. A higher or lower level of cleaning can be achieved by adjusting the ratio. However, do follow the instructions on the product label.
Is Chemical Guys Leather Cleaner good?
Yes, in fact, it's one of the best leather cleaners of all time. This product can be used to clean leather seats, interiors, jackets, shoes, sneakers, boots, purses, and furniture.  Also, every household has leather items, this cleaner will revitalize them.
Conclusion
The article Chemical Guys Innerclean Vs Total Interior discussed every single feature of them.
They are interior cleansers designed to remove dirt, grime, and stains. All interior surfaces of a car can be cleaned and freshened with either product, including upholstery, carpet, and plastic.
Hopefully, you find it helpful in your venture. Happy cleaning!
As an Amazon Associate I earn from qualifying purchases.