Tire lettering is not only a part of the tire; it adds small detailing and extra dimension to your car. The beautiful white letters create a balanced contrast.
But the problem is dirt, and I had a fine share of trouble with my first car. Fortunately, I had my brother to help me with it. He taught me proper procedures and techniques to keep it a thing of beauty.
Today, you're going to learn about whitewall tire cleaners and how to clean white letter tires. Also, there will be answers to the most asked questions about White letter tires. So, join us wasting no time and dive into details to take your tire cleaning experience to the next level.
If you are looking for the best product on the market for cleaning white letter tires. Then Black Magic Bleche-Wite Tire Cleaner will be great for you. I have been using this product in my garage for a long time and it works great and makes it shine like new in a very short time. You can safely use it.
Here is a link to the Black Magic Bleche-Wite Tire Cleaner on Amazon. If you want, you can buy it here at a low price.
How to Clean White Letter Tires?
The first step to clean your stained white letter tires is to find the perfect whitewall tire cleaner.
You will find various specialized whitewall tire cleaners in the automotive section, but you need to understand your requirements and before choosing the right one among them. So, let's begin.
Firstly, use a wet cleaning pad to clean your whitewall tires. Then, apply the cleaning product on the wet tire and scrub the tie thoroughly. After scrubbing and letting the product soak, you can rinse the residue with water. This will give your tire a clean and white look.
For a long-lasting and better result, use an all-natural whitewall tire cleanser that will not damage the material of your tire.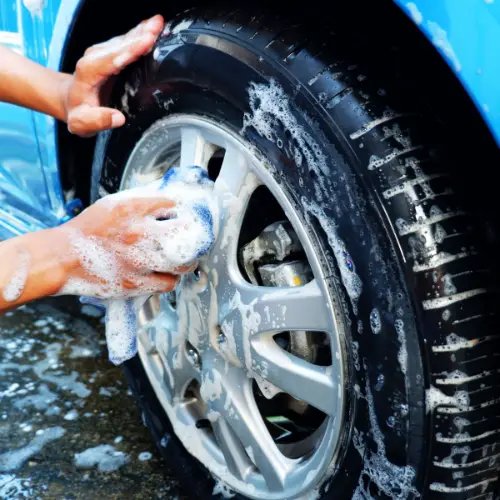 How to Clean Whitewall Tires Baking Soda?
Baking soda, one of the best cleaning agents, can be used as a homemade remedy for cleaning whitewall tires. If you don't have a tire cleaning product, then baking soda can be used to clean your whitewall tires. For this, you need a damp cloth or sponge and baking soda.
Here is a link to the tire cleaning product on Amazon. If you want, you can buy it here at a low price.
Firstly, you need to sprinkle baking soda on the damp cloth so that the baking soda can be diluted with water but not become liquid. Then you need to wipe the surface of the whitewall tire with the cloth.
Try to move the cloth in a small, circular motion so that the dirt can come off.
After rubbing the tire and cleaning it, you can rinse it off. If you need to clean more, you can rinse the cloth and reapply the whole procedure till you are satisfied with the result.
Why do White Letters turn Brown?
Turning the white tire lettering into brown is quite a common problem for white letter tires. As the tire stays in one of the dirtiest places of the car, the dirt and soil get attached to the tire very fast.
So, the beautiful white lettering turns brown easily because of the stuck soil.
You might also notice that the tire turns brown while cleaning. It is because of the chemical reaction between the cleanser and the wax.
If the wax that is used in the manufacturing of the tire comes to the surface, it starts to oxidize. When the wax comes in contact with white letters, the reaction affects the letters, and they turn lig
ht brown.
The older the tire gets, the possibility of it turning brown increases. Sometimes even the new tire letterings also start to turn brown especially if you have a teardrop camper and use it a lot.
Does Dressing the Tire Help Maintain the White Letters?
Yes, tire dressing helps to maintain the white letter by restoring the beauty of your tire. Tire dressing is one of the essential car care procedures to make your tires look shiny and restore their beauty.
If you want to restore and maintain the dark shiny gloss of your car tire, then tire dressing is all you need. Tire dressing protects your tire from fading or cracking. The rehydration property helps to restore and lock the glossy look. It also helps you with white letter tires to last longer. There are various types of tire dressing products.
You can use them as an extra layer of protection and for reviving the longevity of your car tires.
What is the Best Cleaner to use on White Letter Tires?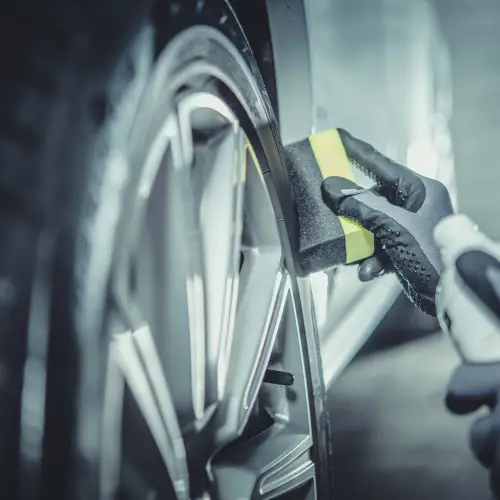 There are various types of cleaning agents and solutions that can help you to clean your white letters and give your tire a brand new look.
You can use SOS pads that can keep the sidewall of your tire letters white.
If the dirt is deeply engraved into your tire letters, it might be a little difficult for you. Cleaning solutions like WD40 or other effective solutions can also do the work that is suitable for your car tire. But if you are worried about the chemical reaction and don't want to take risks, you can stick to the SOS pads.
Bleach can also be used for whitening and sterilizing your white tire letters. The sodium hypochlorite or hydrogen peroxide helps to dissolve the dirt and clean your tire.
What Type of Brush Should I Use to Clean White Letter Tires?
Your car tire encounters the most stubborn and hard-to-remove dirt and grime. Sometimes the stains can be so strong that it seems impossible to get rid of them. Even a pressure washing can be inadequate, especially if you didn't give a thorough wash to your car for a long time.
For this type of situation, you'll need strong brushes like a nail brush or barbeque brush.
The strong teeth of the brush can loosen the particles and help you remove the dirt completely. But if your car tire is in good condition, a firm bristle brush can do your work. It will remove the unwanted dust from the white letter without hurting the surface of your tire.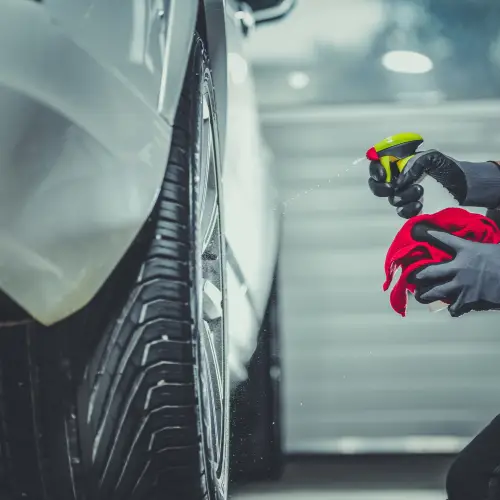 People also ask:
Why do white letter tires turn brown?
There are a number of reasons why white-letter tires turn brown, but the main reason is that antiozonants push the outer edge of the rubber coating over time. It turns brown when exposed to oxygen. Antiozonant prolongs the life of car tires as it greatly reduces tire wear due to oxidation.
Can you use bleach on white wall tires?
Better not to use bleach on wall tires. Although bleach only works for a short time, you can use bleach to clean anything. These will dry out the surface of your tires and cause premature wear.
How do you clean yellow white wall tires?
Sprinkle a generous amount of baking soda onto a damp cloth or sponge. Thoroughly wipe the surface of your whitewall tire in small, circular motions. Rinse tires thoroughly after cleaning. Rinse the cloth again and reapply the baking soda every few minutes until you are satisfied with the results.
Final Words
You might be a new car owner or looking for better car care options, having a professional touch and fine beauty will not hurt, will it? So, learn how to clean white letter tires today and give your car a luxurious look. The ultimate whitewall tire cleaner recipe will increase the life cycle of your car tire and reflect your class.
The white color of the tire letter fades away and becomes brown with time. If you don't clean them properly and regularly, you can't expect the best service either. So, learn the techniques of taking care of your tires and cleaning your whitewall tires. Maintain the glaze and texture of your tire like a new one.
As an Amazon Associate I earn from qualifying purchases.