Westley's Bleach White has been popular among car enthusiasts for its ability to brighten and clean white wall tires. But in recent years there have been reports that the product is no longer available on the market. Leading many people to wonder, what happened to Westley's Bleach White.
'Westley's Bleach White' was acquired by another company and now it's being sold as 'Black Magic Bleach White Tire Cleaner'. Along with the change in manufacturer, the formula has also been altered. The new product has lost the charm and effectiveness the original one once had.
That's not all. The article incorporates why Black magic has taken over Westley's Bleach White in a details manner. Also, it contains a comparison between the old and new formulas. So hang tight to know each detail.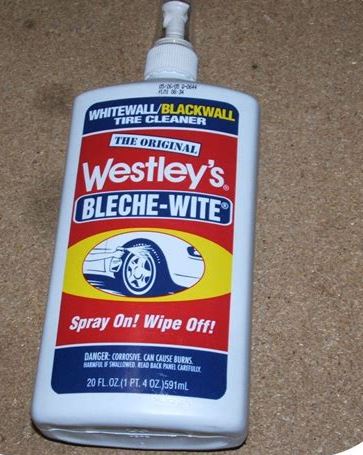 What Happened to Westley's Bleach White?
Westley's Bleach White, the original product doesn't exist anymore. If you search for this stuff on the web, you'll find the same naming product but under a different brand name, "Black Magic". This happened due to the acquisition between their parent companies. But no official statements were published regarding this takeover. Let's know the back story together.
The brand, Westley's belonged to SOPUS products, a subsidiary of Shell Oil Co. In May 2010, SOPUS announced selling the Car Care portfolio of their company. Illinois Tool Works Inc (ITW) took an interest and bought that division.
But the terms of the acquisition were not officially disclosed. As a result, ITW relaunched the Bleach White product under their umbrella brand, Black Magic.
A Formula Comparison between Black Magic And Westley's Bleach White
Along with the change in the company, the formula has also been altered between these two products. In layman's terms, the new formula has been weakened and consists of fewer ingredients than its predecessor.
Let's look at a table to have an in-depth idea. The data have been collected from their respective 'Material Safety Data Sheet' (MSDS).
| | | | |
| --- | --- | --- | --- |
| Westley's Bleach White | | Black Magic Bleach White | |
| Component | Percentage % | Component | Percentage % |
| Water | 80-90 | Water | 90 |
| Isopropyl Alcohol(CAS 67-63-0) | 1-5 | 2-Butoxyethanol(CAS 111-76-2) | 5 |
| Butyl Cellosolve(CAS 111-76-2) | 1-5 | Sodium Metasilicate     (CAS 6834-92-0) | 5 |
| Sodium Silicate | <5 | | |
| Dye(Mixture) | <1 | | |
| Surfactant  (Mixture) | 1-10 | | |
You can clearly see drastic changes in the formula of these two products. The absence of surfactants makes the new solution a comparatively less effective cleaner. Read the following section to know people's reactions to these changes.
Are People Satisfied with Black Magic (New Version)?
Sadly, people are not satisfied at all with the new version of this product. This is a classic example of trying a new formula when there already existed an amazing one. Look at some reviews given below and be the judge yourself!



What Are Westley Bleach Alternatives?
People aren't so happy with Westley's Bleach White's new version of Black Magic. They are continuosly searching for alternatives to replace the OG Westley's Bleach White. Let's focus on some exceptional alternatives that can give you wonderful results. 
| | | | | |
| --- | --- | --- | --- | --- |
| Comparative Issues | Purple power  | LA's totally awesome orange | Simple green | Super clean |
| | | | | |
| Nature   | Heavy duty cleaner  | Grease and stain remover | All purpose cleaner  | Degreaser  |
| Cleaning ability  | Very effective  | Effective  | Very Effective  | Very effective  |
| Health impact  | Caustic   | Very caustic  | Mild caustic | Caustic  |
| Ease of use  | Easy  | Easy  | Easy  | Easy  |
| Cost | $14 to $16 for 40 oz. | $14 to $16 for 44 oz. | $9 to $11 for 24 oz. | $6 to $8 for 32 oz. |
| Amazon User rating(out of 5 stars) | 4.3 | 4.2 | 4.7 | 4.5 |
| Check Price | | | | |
Let's shed light on the alternatives in a broader manner. 
Purple Power is a powerful cleaner that can be used as an alternative to Westley's Bleach-White tire cleaner. Purple Power is a heavy-duty cleaner that is designed to remove grease, oil, and other tough stains from a variety of surfaces, including tires.
Purple power is a heavy-duty greaser that contains powerful chemicals like Butoxyethanol, Sodium Metasilicate, and Sodium Hydroxide. These chemical solvents are wonderful to remove oil, grease, and grime from hard surfaces like tires wonderfully. 
As a pre-treatment before washing your tires or as a standalone cleaner, purple power can be diluted and used. While it can effectively clean tires, it may not be specifically designed to clean white walls and letters like Bleach-White.  
Many people may find the price of Purple power a bit high. However, I think the price range is not much affordable. for many people. But if you consider the performance, the price is totally justified.  
LA's Totally Awesome Orange is a popular cleaner that can be used as an alternative to Westley's Bleach-White tire cleaner. There are many surfaces that can be cleaned with LA's Totally Awesome Orange, including tires.
It is formulated with natural citrus extracts, which can help to eliminate tough grease and grime on the tire surface. Though it's not designed to clean the tire, it can be an effective cleaner for general tire maintenance.  
Also, LA's Totally Awesome Orange dissolves grease and grime effectively, making it a great choice for cleaning kitchens, garages, and other areas where dirt and grease accumulate. The orange scent it leaves behind after cleaning leaves a fresh and pleasant scent. And you don't have to spend much money to buy that since it's not that expensive. 
Simple Green Industrial Cleaner is one of amazon's Top choices of commercial degreasers, having 'U.S EPA safer choice' certification. So, it is safer for humans and the environment than other commercial cleaners. It's a powerful all-purpose cleaner. Simple Green can be used to remove heavy dirt, grease, food residue, and stains from tires. 
It's a non-abrasive and less corrosive cleaner.  The simple green product is cheap and will save you money. Your job can be done properly with it. For people who prefer non-toxic, it would be a holy grail for you.  
Super Clean Multi-surface Cleaner is another wonderful alternative to Westley's Bleach White that can brighten the tire. It easily breaks up excess grease and oils, making them easier to remove. It contains a fantastic blend of surfactants and solvents.
Then, Super Clean is designed to cut through dirt and grime while remaining gentle enough to use on painted surfaces, plastics, chrome, and aluminum. This formula contains a blend of solvents and surfactants that work together to break down and dissolve dirt and grease.
Alternatively, Super Clean can be used for a wide range of cleaning tasks. This biodegradable, non-toxic cleaner is safe for tires. In fact, it is one of the most powerful water-based cleaners available. 
If you're looking for the cheapest one, this one would be a holy grail for you. Also, the users' reviews are satisfactory enough. 
Frequently Asked Questions (FAQs):
What is the best DIY White wall tire cleaner?
Baking soda is the best homemade White wall tire cleaner. Take some soda on a damp cloth or a sponge. Then, gently wipe the surface of your Whitewall tires in a circular motion. Now rinse the tires with clean water. You need to reapply the baking soda for a satisfactory result.
Does Bleach White damage tires?
Yes, Bleach White can damage the tires prematurely. The chlorine component in the  Bleach is responsible to damage the rubber which can potentially damage the tires. Due to the destruction of rubber by sodium hypochlorite, tires will eventually lose their integrity.
How to use black magic Bleach?
Black magic Bleach is easy to use on all types of tires White walls White lettered and black wall tires. You need to spray the solution on cool dry tires and allow it to set for two minutes so that it can brake dust grease and road grime. Then hose off with cool water and wipe away any residue that remains with a towel. Be sure to brush and reapply the product if heavy deposits or scuffs are present. 
Conclusion
Finally, you've got to know what happened to Westley's Bleach White. Westley's Bleach White was so popular since contains a strong Bleach-based formula that can be effective at removing stubborn stains and dirt from tires. 
In the article, I also describe alternative formulas for those who don't like the new ones. Wishing you success in your endeavor.
As an Amazon Associate I earn from qualifying purchases.