Finding better car care products is so challenging nowadays because of the availability of various brands in the market. You may get confused to pick one among all of them.
That's why you may be wondering: Mothers vs Meguiars, which one is better?
As a well-known brand, Mothers' products are affordable, while Meguiars' products are more expensive. Meguiars' interior and exterior detailing products clean beautifully and leave a shiny satin finish similar to Mothers'. User reviews indicate that Meguiars is more popular than Mothers. Nevertheless, both brands have a wide range of quality products to choose from.
Don't leave just by reading this sneak peek. In order to compare the products of both brands, it is important to find out how they differ and are similar. So, let's dive into the whole thing.   
Mothers Vs Meguiars: Which Surpasses the Other?
Mothers and Meguier have been locking horns for some time. These brands are familiar to anyone who frequently uses the best car detailing products. 
Meguiars had the market all to themselves from 1901. Meguirs hit the shelves in 1973 like the roaring 70s and made it competitive.  So, car enthusiasts often wonder which one to choose. 
So, let's see the differences between these two brands regarding fundamental factors. 
| | | |
| --- | --- | --- |
| Factors   | Mothers  | Meguiar |
| | | |
| Packaging  | Good  | Excellent  |
| Affordability  | Cheap  | Expensive  |
| Performance  | Mixed(Good, Excellent, Bad) | Excellent  |
| Popularity  | Less  | High  |
| Ease of Use  | Very easy  | Easy  |
| Product Variation | Moderate | Vast |
| Reviews  | Mixed reviews  | Good reviews  |
Factor 1: Packaging
The products of Mothers and Meguiar have different features of functionality such as pour spouts, spray nozzles, and different types of closures. 
Both Mothers and Meguiar consist of good quality plastic which is sturdy and robust enough. If the bottle gets dropped accidentally, it won't break. The bottles of Mothers and Meguiars are perfect for tough using and carrying while traveling. 
However, don't forget that an exception can't be an example. Because if you're being too harsh, the packing can be damaged.
The mother's products come in red, yellow, and ash colors along with eye-appealing graphics and text.  On the other hand, Meguiar products come in a wide range of colors including black, orange, and purple, and fancy & sleek-looking bottles. 
Verdict: Both are good in terms of functional and robust packaging. But Meguiar is more fancy looking.
Factor 2: Affordability
Affordability of a product makes you determine whether you would buy the product or not. However, compared to Mother's products, Meguier is a little bit expensive.
As an example, Mothers' Ceramic detailer cost between $10 to $15 while Meguiars' costs upward of $20. Also, Mothers' Odor Eliminator charges around $6 to $8 but Meguiars' Air Re-fresher ranges from $9 to $10.  So, go for Mother's products if you want to cut off extra expenses.
Verdict: Mothers' car care products are going to save you money.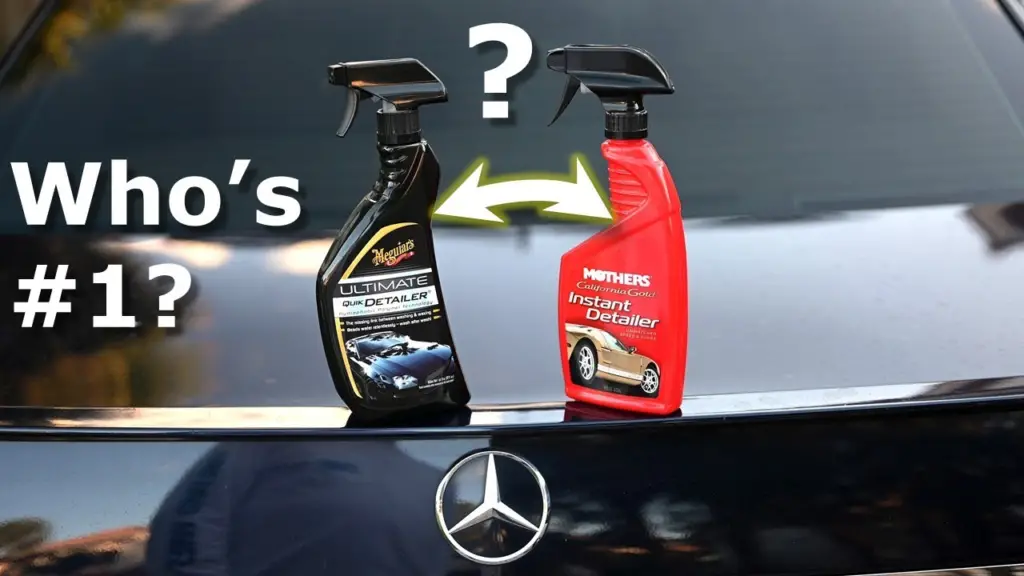 Factor 3: Performance
Mothers and Meguiar products are outstanding in terms of their performance. However, each brand performs better with certain products than others. For example, Mothers' metal polishes, wheel cleaners, and spray wax perform better compared to Meguiar's one. On the other hand, compared to Mothers, Meguiar's paint polishes and waxes. 
Again, both Meguiar's and Mother's have great vinyl/rubber protectors, the Ultimate Protectant by Meguiar's and the VLR by Mother's. So, both products will produce a matte/satin finish on these surfaces.
We have compared similar products of each brand in depth in the later part of this article. So, stick with us!
Verdict: Performance varies from product to product. In general, they get the minimum required job done.   
Factor 4: Ease of Use
Mothers' car detailing products is that they are generally easier to use compared to Meguiar's products. Mothers' products are designed with simplicity in mind, making them perfect for beginners or those who want to get the job done quickly and efficiently.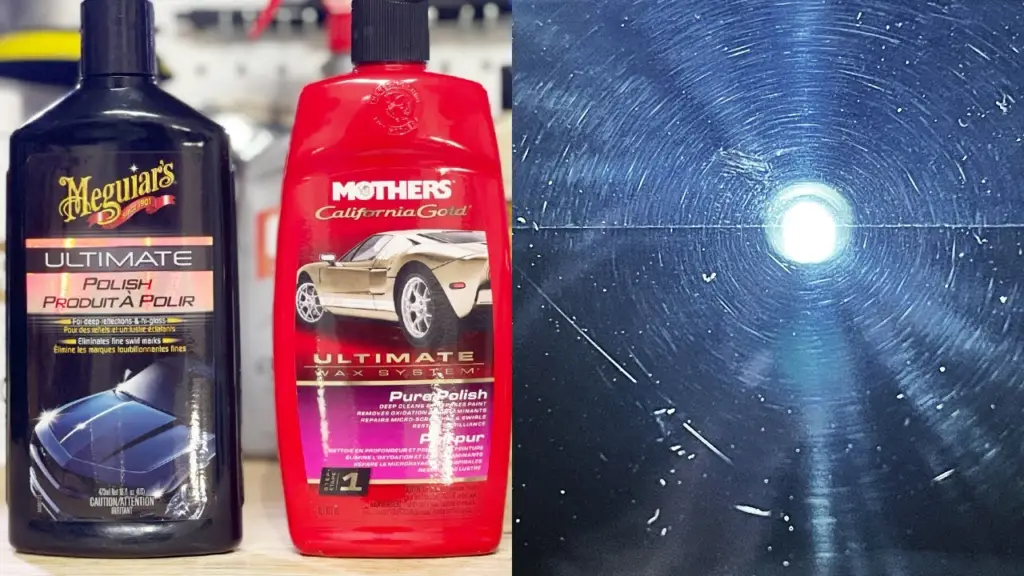 On the other hand, Meguirs products are oriented towards people with some sort of car cleaning and polishing experience. Users consider Meguiars as a true professional grade, while Mothers is still a retail product lineup. 
Also, Meguiars also have a dedicated section of products targeted at experienced people. As car enthusiasts, it is always handy to know the basic steps in detailing a car.
Verdict: For beginners, I recommend Mothers. For people with expertise, Meguiars is the way to go.  
Factor 5: Popularity and Reviews
Compared to Mothers, Meguiar is more popular as a car detailing brand. However, people like the products from both of the brands as their car detailing expertise. So, you can choose any of them.
From the reviews from amazon, it goes to prove that both Mothers and Meguiars are good enough. However, Mothers' products are popular among some people. Conversely, some people didn't get satisfactory results from Mothers' car care. Let's look at some examples.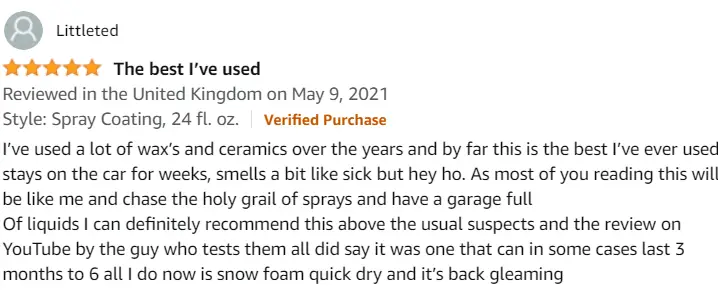 On the other hand, Meguiars users are also satisfied with the outcome of the products. Let's focus on some amazon reviews.


Verdict: Analyzing the reviews, the verdict is clear that Mothers gets mixed reviews. And Meguiars gets positive reviews along with a wider space of popularity.
Now that you have got a general idea about them, let's take a look at the various products made by them that are visible in any store. We'll maintain our comparative manner in the next part also.
Factor 6: Product Variation
Both the brands, Mothers and Meguiars possess a wide variety of products. Although in comparison, Meguiars provide greater versatility. Their website also has better-categorized sections to pick the products from.
Mothers' products are limited to only car care, while Meguiars also provide accessories for Marine and RVs. The product line of Meguirs is almost double the size of Mothers.
Verdict: In terms of product versatility, Meguiars is the clear winner here.
Products They Offer: Mothers Vs Meguiars
Mothers and Meguiars produce a wide variety of products. Now, it's time to discuss the products in a comparative manner of both brands. 
| | | |
| --- | --- | --- |
| Products  | Mother  | Meguier  |
| Clay bar  | Doesn't streak   | Prone to streak   |
| Wax  | Provides UV protection  | Provides UV protection |
| Ceramic  | Provides water repellency  | Doesn't provide water repellency  |
| Trim restorer  | Leaves a rich shiny effect  | Leaves no shiny effects but provides UV protection  |
| Wheel cleaner  | Not acid-free  | Acid-free and pH balanced  |
| Car wash | Brightened up the paint  | Doesn't brighten up  |
| Headlight restoration kit  | Need to drill  | No need to drill  |
| Interior detailer  | Leaves showroom like finish  | Leaves natural appearances  |
Clay Bar: Mothers Vs Meguiars
Mothers clay bar is really popular since it stays clean for a long time. On the other hand, the Meguiars clay bar is prone to streak.  
Unlike Mothers, Meguiars offer different levels of aggressiveness for their clay products. The clay types offered by Meguiars are more appealing to detailing professionals.
Meguiar's clay bar is mildly aggressive compared to Mother's one. It will remove tree sap, overspray, and other impurities without running your car paint. Meanwhile, Mothers' clay bar is more aggressive and removes dirt embedded in car surfaces. They can also remove fingerprints that won't come off.
However, the Meguiars clay bar is more popular among users than the Mothers clay bar. 
Verdict: Mothers' clay bar is decent enough to get the job done. But for a more shiny and robust look, pick Meguiars.
Wax: Mothers Vs Meguiars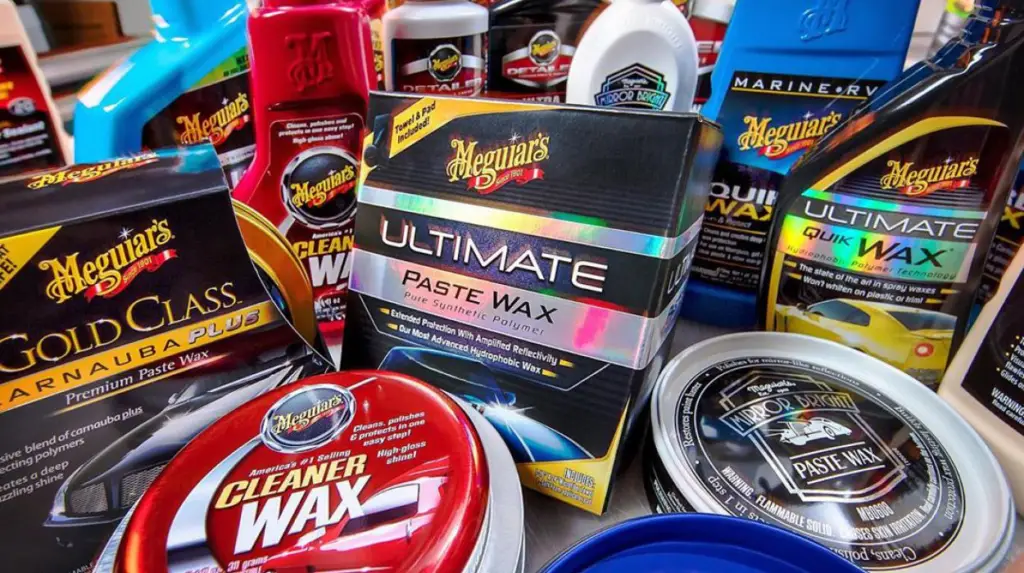 With Meguiar wax, water drops are repelled and mess cleanup is more simple compared to Mothers. With Meguiar wax your car can repel road messes like dirt and mud, unlike Mothers. 
Then, both of the brands provide a reasonable level of UV protection and are easy to apply. Mothers' wax has two varieties of wax, known as California Gold wax.
One of them is formulated with Brazilian carnauba that adds a protection layer along with shine and gloss. While Meguiars has a wide variety including Citrus Blust wax, 3 in 1 wax, Mirror-Glaze wax, etc. 3 in wax includes carnauba as well. Carnauba is used after regular cleaner wax for an extra protection layer. 
Generally, Mother's wax lasts two to three months, which is a good length of time. On the other hand, Meguiar wax lasts around 6 months with a residue-free result. 
Verdict: Choosing Meguiar would be a smart move. 
Spray Wax: Mothers Vs Meguiars
Spray waxes such as Mothers' California Gold Spray Wax and Meguiars ultimate quick spray wax are popular choices for protecting and maintaining your vehicle's paint. Both of the waxes are formulated with high-quality carnauba wax and synthetic polymers, as well as hydrophobic polymer technology to repel water. You can choose according to your wish.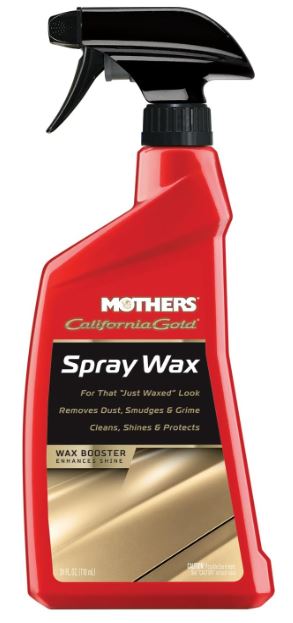 Ceramic Coating: Mothers Vs Meguiars
Mothers ceramic contains a blend of SiO2(Silicon Dioxide) and TiO2(Titanium Dioxide) which provide long-term protection and water repellency. This combo doesn't sacrifice the optical clarity and glossy liquid-esque appearance. They can be used on both wet and dry surfaces.
While on the other hand, Meguiars ceramic wax has only SiO2, and the application is spray-like. Like a standard car wash, this should be used regularly to achieve good protection. Also, the coating sticks to the windshield if accidentally you get it on the glass.
Verdict: Go for Mothers for this category of product.
Trim Restorer: Mothers Vs Meguiars
All cars and trucks with discolored, faded black plastic trim look terrible. The best way to restore plastic trim and panels to their original finish is with a good trim restorer.
Meguiar trim restorer dissolves contamination along with creating a rich shine and darkness while Mothers trim restorer (back to black) cleans stubborn dirt and grease. Moreover, Meguiar trim restorers provide decent UV protection, unlike mothers.
Verdict: If you need a shiny effect then choose Meguiars. And go for Mothers if you value UV protection over Shine.     
Wheel Cleaner: Mothers Vs Meguiars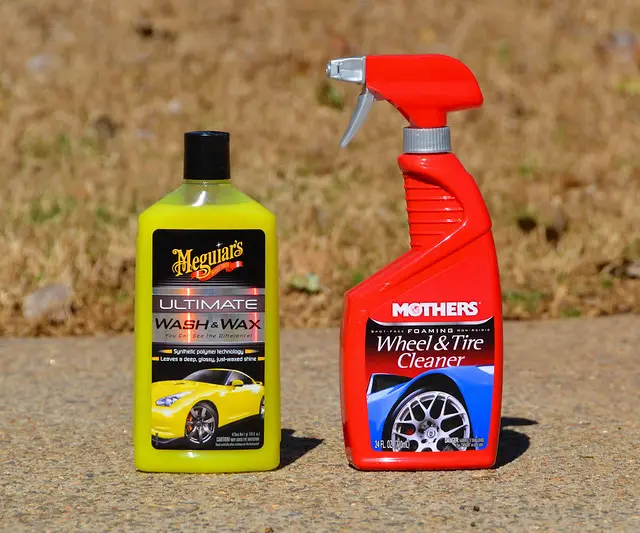 Mothers wheel cleaner comes with a safe formula like Meguiars' that is able to clean wheels and tires from dust, grease, and grime.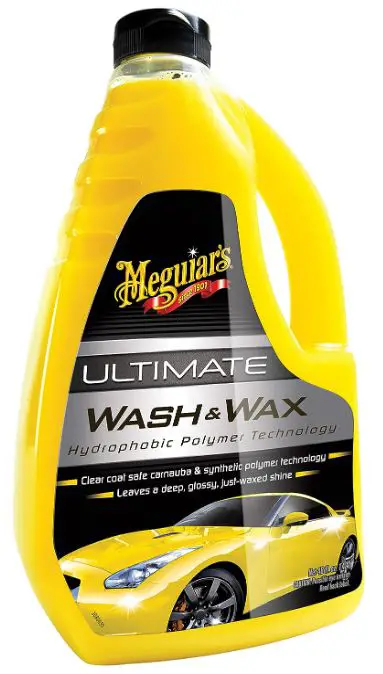 Mothers' wheel cleaner is safe for the wheels with a glossy finish whereas Meguiars Ultimate Wash & Wax is safe for all finishes.  On the other hand, heavy brake dust can be dissolved by Meguiar. It can help remove rubbing compounds that won't come off. Also, it is acid-free and pH balanced, unlike Mothers' one. 
Verdict: Choose Meguiar for better performance.
Car Wash: Mothers Vs Meguiars
Both Mothers and Meguiars car wash is very helpful to remove all dirt, and road film while thoroughly protecting your wax. Meguiars car wash leaves the paint brightened and dazzling. But the afterglow of Mothers' is gloomy and not as good as Maguiers. 
On the other hand, both the car washes are pH balanced and super bubbly which provides long-lasting contamination removal. 
Verdict: Meguiars' car wash provides better results.     
Headlight Restoration Kit: Mothers Vs Meguiars
With Mothers headlight restoration kit, you can easily restore clarity of the light from yellowing like Meguiar's. Meguiar headlight restoration kit protects from deoxidation for 1 year which is not possible in the case of Mothers.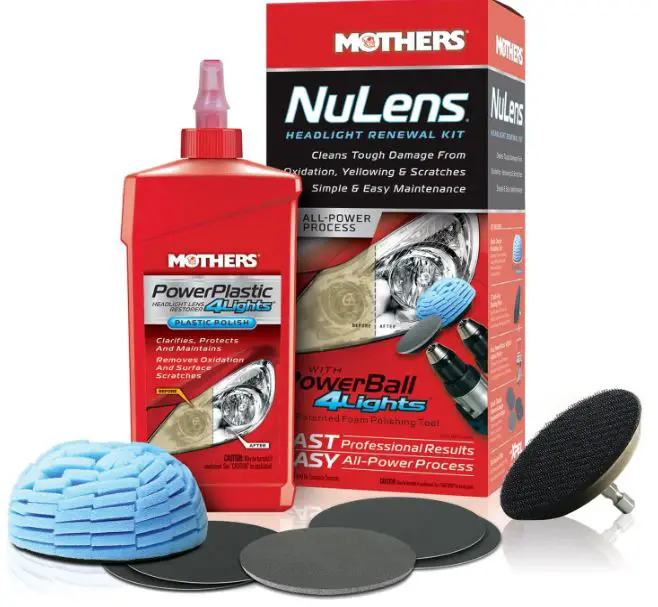 For Meguiars restoration, you don't have to drill whereas Mothers restoration needs to be drilled.  Moreover, both of the restoration products have great protection and crystal clarity. 
Verdict: Both are good  
Interior Detailer: Mothers Vs Meguiars
Mothers offers a variety of interior detailing products, including VLR Vinyl Leather Rubber Care, which is designed to clean, condition, and protect vinyl, leather, and rubber surfaces. All the cleaners clean deeply and leave the surfaces with a showroom-like finish and smell good.
On the other hand, Meguiar's also offers interior detailing products, such as its Quick Interior Detailer Cleaner, which cleans and protects plastic, vinyl, and leather surfaces. All of the detailers clean and protect all interior surfaces in the best possible way. And it leaves the surfaces' natural appearances. 
Both of them offer instant detailers like Mothers' instant detailer and Meguiars quick detailer. They perform equally well, but Meguiars has a better price-quantity ratio.
Verdict: Mothers is better for a showroom finish, while Meguiars is better for a more natural appearance.   
So, Which One Is Better: Mothers Vs Meguiars? 
Mothers and Meguiars are both well-respected brands in the automotive detailing industry, and both offer high-quality interior detailing products. However, determining which brand is "better" for you will depend on your personal preferences and needs.
You really have to take a look at your requirements. Considering the cost, Mothers are the best choice. Meguiars, on the other hand, has better user reviews. It ultimately comes down to the exact products you're buying. So, check out the detailed comparison thoroughly to clear out the confusion. 
It would be very difficult for me to choose between these two brands as both have been around for decades. Both companies produce outstanding products. However, I would always choose Meg's over Mother's if it were up to me.
However, If you're still in doubt, you can try both of the brands' products and choose the one to your liking. Because people's opinion varies, so trying them out by yourself is the best advice I can give you.
Frequently Asked Questions (FAQs):
Is Meguiars Ultimate Compound harsh? 
Meguiars Ultimate Compound is not completely harsh but fairly abrasive since it's a rubbing compound to dissolve scratches, swirl marks, and oxidation. With its special formula, micro-abrasives break down as they are worked into the paint surface, allowing for consistent and controlled abrasion.
Can you use Mothers' polish on stainless steel?
You can use Mothers' legendary metal polish on stainless steel. Using a brilliant secret formula, it produces a great shine without compromising ease of use. A simple cloth and a little elbow grease are all that is required for the application.
What is Meguiars longest lasting wax?
Megiar's Ultimate liquid wax is the longest-lasting wax. You will be able to receive the most intense and darkest reflections, backed by the longest protections ever offered. Moreover, you'll get a glossy look by applying it to the car paint. Clear coats and glossy paint can be protected with Meguiars Ultimate Liquid Wax.
Conclusion 
Hopefully, you've got an idea about the entire scenario regarding Mothers vs Meguiars.  Reading the article, you'll be able to figure out which brand and which product you should pick. 
Though there are no significant differences between them.  There are many benefits to both, and each has its own unique characteristics. Mothers is renowned for its unending love and support, while Meguiars makes things look pristine.
As an Amazon Associate I earn from qualifying purchases.