You may have got fantastic results by using oven cleaner for cleaning multiple household items. Instead of buying another costly cleaner for plastic surfaces, you might be thinking of applying it on plastic also. This is why you want to use oven cleaner on your automotive plastic.
However, you're wondering if you can actually use oven cleaner on plastic.  
You can't use oven cleaner on plastic. Oven cleaner contains sodium hydroxide and butoxydiglycol which are considered harsh chemicals. These toxic chemicals damage plastic severely. Rather you can use amazing DIY methods like baking soda, diluting vinegar, and water. Moreover commercial automotive plastic cleaners work best for cleaning. 
That's not all. The article incorporates the whole thing in a proper descriptive manner. So hang tight with it and give it a read to get your solution.   
Can I Use Oven Cleaners on Plastic?
No, oven cleaners should not be used on plastic since they can damage plastic materials significantly. Basically, oven cleaners remove hard-to-remove grease and grime from metal, especially stainless steel surfaces. 
Having a very limited application area, it's not friendly to soft materials like plastic and rubber. The label of an oven cleaner clearly states to avoid rubber, plastic, and aluminum surfaces due to the harshness of the ingredients.
Sodium Hydroxide (NaOH) also known as caustic soda is the main cleaning agent of these cleaners. It can cause melting, warping, or discoloration of the plastic. Other chemicals, like Butoxydiglycol, and methylene chloride are also found in oven cleaners. They are very harsh solvents and also dangerously toxic.
That's why you shouldn't use these hard chemicals on plastic. They tend to penetrate the plastic and eat the plastic. If you want to clean plastic, you should avoid using oven cleaners and instead use a cleaner designed specifically for that type of plastic.
Potential Risks of Oven Cleaners on Plastic
If you accidentally apply oven cleaner on plastic, there are several negative consequences that are going to hit the plastic. Let's get to know them so that we can keep ourselves sufficiently convinced to refrain from using them.
Damaging the plastic is the ultimate consequence of using oven cleaner. Oven cleaners contain harsh chemicals that can dissolve and break down plastic. 
Plastic can become discolored, warped, or cracked as a result.
It is important to note that oven cleaners contain sodium hydroxide (caustic soda), which can react chemically with rubber, plastic aluminum, chrome, enamel, etc. You may experience health problems as a result of toxic fumes released during this process.
The plastic you're using the cleaners on would degrade over time. It will also eat away the surrounding rubber parts of your car's components. 
Since you can't use oven cleaners on plastic, it's time to look for feasible alternatives. 
Alternatives Cleaners on Plastic
There are some amazing substitutes that you can use on plastic safely. My recommended alternatives are here to save the day. You can opt for any of these homemade or store-bought cleaners. Let's shed light one by one.
| | | | |
| --- | --- | --- | --- |
| Product Type | Performance | Ease of Use | Cost |
| Homemade | Average | Moderate | $1 to $11 |
| Store-bought | Excellent | Easy | $10 to $25 |
Homemade Cleaners on Plastic: 
First, we'll get to know some handy homemade cleaners which perform the best for cleaning plastic components.  
Baking Soda:
Baking soda (Sodium Carbonate) is an amazing cleaner to remove any dirt and contamination from plastic. It is a mild natural alkali, so it does not degrade plastic surfaces. Also, it can eliminate any funky odors absorbed by the plastic.  Follow these steps to use baking soda to clean your car's plastic materials.
Start by mixing baking soda and water to form a thick paste. It is recommended to start with 2 tablespoons of baking soda and 1 cup of water, and then adjust the ratio as needed.
Now apply the baking soda paste to the plastic with a soft-bristled brush or sponge. If you want to avoid scratching the plastic, don't use too much force.
Once you have finished scrubbing, rinse the plastic thoroughly with water.
Dry the plastic surfaces with a non-abrasive microfiber cloth, making sure the baking soda is completely removed.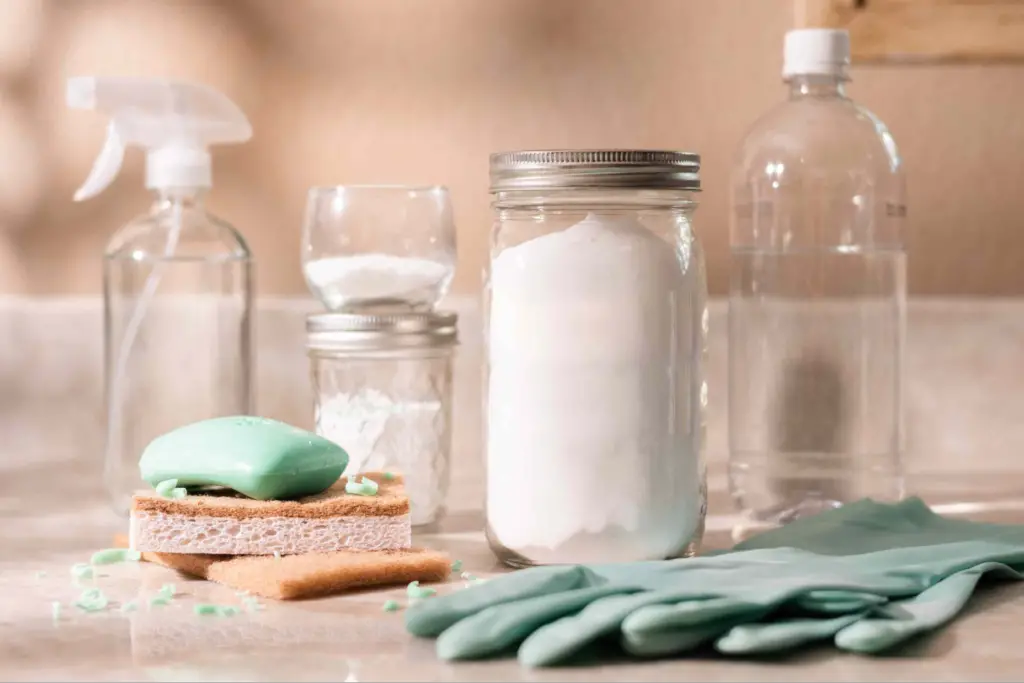 White Vinegar and Water:
The surface of plastic can be cleaned by diluting white vinegar (Acetic acid) with water. This is a safe and effective way to remove dirt, grime, and stains. It doesn't dissolve or degrade plastic but may cause discoloration and etching. So, you need to keep that in mind before using this method.
It also helps remove fingerprints that won't come off from the exterior and interior of your car or used as a car window cleaner. You can easily clean the plastic as it does not react with the plastic and degrade.  Let's check how to by following the procedures below.
Make a spray bottle by mixing equal parts of water and white vinegar.
Spray the solution on the plastic surface you want to clean.
Scrub the surface gently with a soft cloth, such as microfiber. Pay special attention to any tough stains and work in circular motions.
Rinse the surface with water to remove any residue & Wipe the surface dry with a clean cloth.
Soapy Water:
Soapy water is another amazing DIY solution for cleaning plastic. Using it on plastic will allow you to easily perform your task.
Mix a small amount of dish soap in a bucket of water to make soapy water.
Your plastic dashboard, door panels, and exterior trim can be gently cleaned with a soft sponge or cloth dipped in soapy water. Soap and water mix can also scrub off rubbing compounds that won't come off.
If you use too much water or apply too much pressure, the plastic may be damaged.
To remove soap residue, rinse the plastic with clean water. Then, dry the plastic thoroughly with a clean, soft cloth to prevent water spots. 
Store Bought Cleaners on Plastic:
There are many commercial cleaners available specifically for plastic surfaces. They are easy to use and do better cleaning on clingy stains when compared to homemade ones. Look for a product that is safe and suitable for the type of plastic you are cleaning. Now let's shed light on some popular store-bought cleaners. 
Now you've got an idea about each of the commercial plastic cleaners. At this point let's get to know the user process and others. 
Chemical Guys Total Interior Cleaner & Protectant:
This product deep cleans the plastic surfaces like the dashboard and trims of your car. As a protectant, this product ensures that the plastic surface will remain clean for a long time. This product also ranks first in our best-smelling car interior cleaners of 2023.
The formula of this product contains Dimethyl Siloxane, known for its softening and smoothing action. So it won't discolor or degrade the plastic. All you have to do is spray on the area and clean it with a cloth. But remember that you may be disturbed by the smell.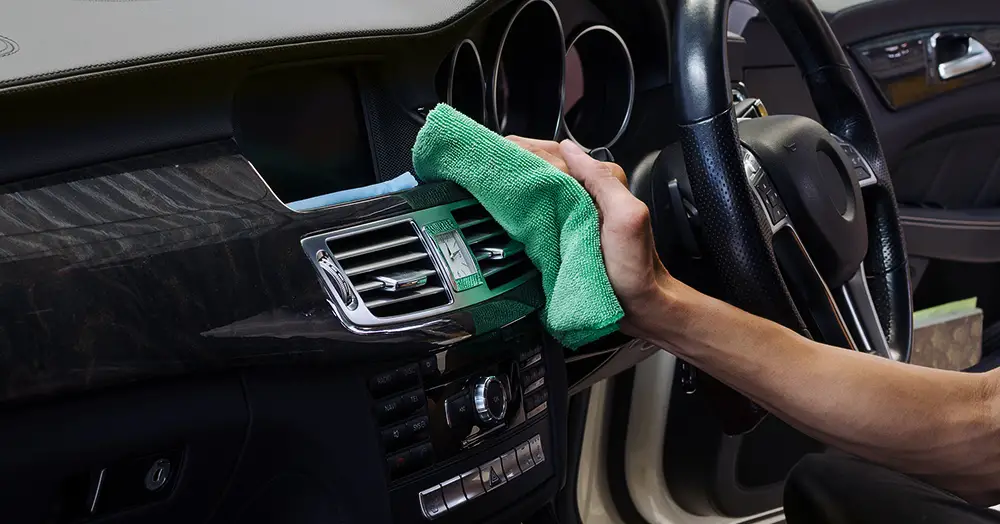 CarGuys Super Cleaner:
It is able to clean the plastic surface deeply. Any stain and steak that accumulates inside your car will be cleaned by it. The advanced nanotechnology formula makes it so effective as a cleaner. 
It doesn't contain any harsh chemicals so it keeps your plastic good. Cleaning is easier, faster, and less messy with the ergonomic bottle design of it. However, people who are looking forward to a polished finish, shouldn't go for it. 
Chemical Guys Vinyl, Rubber, and Plastic Dressing:
Plastic surfaces in automobiles with low-level dust and dirt are considered to be among the best cleaned with this product. Using it, you will be able to remove difficult, greasy, and deeply ingrained stains from the plastic interior of your car.
Being budget-friendly Chemical Guys  Vinyl, rubber, and plastic dressing is one for not only removing dust but also providing an incredible shine. It is also one of the best car plastic restorers currently available out there.
303 Aerospace UV Protectant Spray: 
This spray is fantastic for providing long-term protection against the elements as well as the dust and dirt from your car's plastic. It also slows the aging process of your vehicle's plastic because it minimizes the risk of color changes, yellowing, or cracking.
You can choose from a wide variety of container sizes. Spray it on the dirty plastic surfaces of your car and get shiny results.  
Meguiar's PlastX Clear Plastic Cleaner & Polish:
Do you want a cleaner and a polisher in one?  It provides you with beautiful polish along with cleaning the plastic surfaces inside your car. You can use it on clear plastic to restore the unbelievable shine including windows, displays, and headlights. 
This polish is water-resistant, so it won't fade if exposed to rain or moisture. You need to shake it before opening it. Then pour some amount of product on the applicator pad. Rub thoroughly into the plastic with light to moderate pressure. Then wipe off the residue with a clean microfiber towel. 
Frequently Asked Questions (FAQs):
What surfaces can you use oven cleaner on?
Multiple household items can be cleaned with an oven cleaner. You can clean your hair-curler. A white porcelain bathtub can be cleaned with an oven cleaner if it has stubborn stains or rings around it. Moreover, a cast-iron frying pan that has become encrusted can easily be cleaned using oven cleaner. 
Can I remove stains from concrete with oven cleaner?
Yes, you can easily remove stubborn stains from concrete with an oven cleaner. You need to spray the oven cleaner on hard grease, oil, and transmission fluid stains. Then wait for at least 5-10 minutes and scrub it with a brush. Finally, rinse it off with water. Remember one thing, if the stains are severe, you might need to perform the whole procedure again.  
Is the oven cleaner acidic? 
No, oven cleaner is an alkaline solution. The pH level of oven cleaners ranges between 11 and 13. Also, many oven cleaners contain strong acids such as hydrochloric acid or phosphoric acid that dissolve and remove stubborn grease and grime. These acids can be corrosive and can cause skin and eye irritation. 
Conclusion
The discussion has finally come to an end. Hopefully, you've got an insightful idea regarding oven cleaner on plastic.
Automotive plastic tends to build unwanted dirt and debris. Since it needs to be cleaned very often, you can do it with any of the processes described in the article. However, do avoid applying oven cleaners on plastic. 
All the best for your venture.
As an Amazon Associate I earn from qualifying purchases.